The success of your transfer depends on selecting the appropriate movers with the moving services you require. The first step in this lengthy process of moving is determining whether you are moving locally, long-distance, or internationally.
When you've decided what you'll take with you, you'll know what kind of moving services you'll require. Knowing what you're doing and what you need makes the decision straightforward.
Different Kinds Of Moving Firms You Must Know Are
Moving Businesses In Your Area
Local movers (also known as intrastate movers) specialize in moves inside the same state, typically within a 100-mile radius. These firms charge by the hour (about $30 per hour per mover).
A short-distance transfer will cost between $110 and $150 per hour if two workers and a truck are hired. Local moving businesses do not require a USDOT number and are governed by the laws and regulations of the state in which they operate.
Make sure that the movers you hire are licensed and reputable. When a local moving company sends you an incomplete quote that you are asked to sign, an alert should go off in your head.
If you sign it, they may raise the overall fee in the future. That's one way to tell if a local moving company is unlicensed and trying to defraud you.
Companies That Specialize In Long-Distance Relocation
Long-distance moves are defined as those that cover more than 100 miles. The government authorities requires long-distance moving companies to get a uniques registeration number. To work lawfully, The total weight of your belongings and the distance to your new place determine the pricing.
Your items will be transported across a great distance. You'll need professional interstate movers who have completed the process with other people's belongings, so you won't have to worry about their condition when they reach your new home.
Before hiring a long-distance moving firm, get moving quotes and compare them. Also, examine customer evaluations to see how well they have completed this assignment in the past and whether people have been satisfied with their services.
International Relocating Firms
You'll need the assistance of an international moving company if you're shifting from one country to another. Numerous issues can arise when delivering household goods by air or by sea. (sea shipping is less expensive than air shipping.)
That is why you should hire a moving company that specializes in international moves and understands all of the nuances of this challenging task, such as import restrictions and how to obtain adequate insurance.
The following are the three most important factors that will determine your international moving costs:
The mode of transportation that you intend to use.

The distance between your current location and your new one. The shipment's volume is expressed in cubic feet or cubic meters.
Moving Companies For Businesses
Commercial relocation is a considerably more complicated procedure than relocating a home, and as a result, it is far more expensive. Because the item being carried is sensitive and valuable, commercial moving firms have unique equipment and vehicles required for this tough transfer. It would be best to have movers with whom you can entrust sensitive documents, such as employee data records.
Because office responsibilities will be limited until the conclusion of the relocation, and the business must resume entire operations at a certain period, this type of transfer necessitates meticulous planning. Electronic equipment, such as PCs and MFPs (multifunction printers), need particular packing procedures, so leave it to the specialists.
The task's complexity, the total weight of your office belongings, and the requirement for specialized services are the primary elements determining the final cost of your commercial relocation. The typical cost of moving your workplace will be between $1.20 and $2.40 per square foot of the building, plus $0.90 per square foot for packaging office equipment.
Companies That Transport Automobiles
You can utilize the services of a professional car shipping business to move your vehicle to another state or nation if you don't want to drive to the new site. Obtain as many automobile shipping estimates as possible so that you can compare them and select the most suitable auto transporter.
When choosing a car transporter, look for one that possesses the following qualities: experience, trustworthiness, professionalism, and affordability. If the vehicle shipper you choose fits these criteria, your automobile will be in good hands, and you won't have to worry about it arriving in good shape at your new location.
Several factors determine the cost of transporting your car to a different state or nation. The most important are:
The total distance travelled from point A to point B by your vehicle.

The dimensions and weight of your vehicle. The bigger the moving vehicle, the more expensive it is.

The time of year that you'll be transporting it. If you ship it in the summer rather than the winter, you may expect to pay roughly $240-$360 more.

The route to the transportation's eventual destination. Shipping costs will be lower if you live in a large city where many people employ the services of automobile transportation firms.

The mode of transport. You have the option of transporting your car via truck (about $1,140), by car (approximately $1,140)
Self-Service Relocation
You've prepared everything for transportation, but you don't want to deal with the stress of driving a sizeable rented truck. Self-service moving is here to relieve you of this enormous burden. If you decide to employ this service, you have two options: a moving truck or a mobile storage container.
You will be under more stress when using a moving truck because the driver will be waiting for you to finish loading your valuable belongings. The driver's sole responsibility is to drive the moving truck to your new residence. If you request a mobile storage container, on the other hand, you will have all the time you need to finish loading.
Rental Trucks Are Available
If you merely need a vehicle to carry your belongings from your old location to your new one, truck rental services are ideal. You will be given a moving truck and some essential moving equipment to assist you with all elements of your relocation. This is a do-it-yourself move, so you're in charge of everything: packing, loading, unloading, and unpacking.
Prepare for a long trip between the two places as well.
Professional movers will not be able to assist and guide you. If you're confident you'll be able to handle things on your own, go ahead and finish your planned relocation. This is the most affordable relocation service.
Conclusion
These are the moving services that you must know about before moving anything from one place to another. If you go through any issue then feel free to contact us anytime. Moving Champs Canada will be there for you to solve your issues.
To know more contact us now, you can
Call us at: +1-6479322202

Or Can also mail us on: info@movingchamps.ca
Are you looking for short-term storage services in Canada?  Short-term storage means a place where for a temporarily short period, you can store your items safely and can access them whenever you need them. Storage can consist of things that might not be currently...
Summary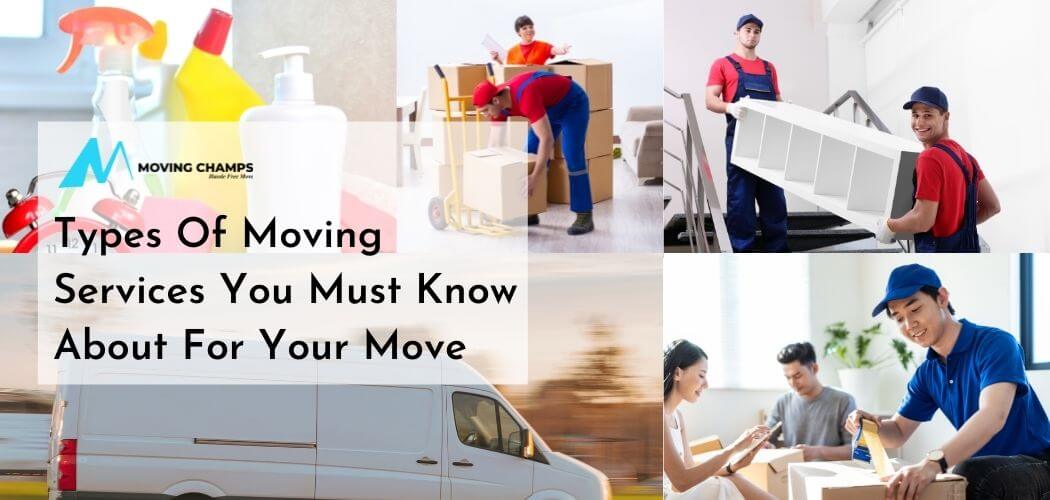 Article Name
Type Of Moving Company You Must Know About For Your Move
Description
Have you ever find difficulty in find out type of moving company then this information is for you. To know more call us: +1-6479322202
Author
Publisher Name
Publisher Logo