After getting all moving procedures carefully, such as packing, transporting, hiring professionals, and loading. When you finally reach your destination after doing all the moving-related stuff, in the end, you realize the setting of the new house according to your staff capacity makes a beautiful and complete look for your dream place.
Some Ssuch Fundamental Tips Help You To Make A Perfect New Place Setup
Name All The Boxes
Naming boxes are the best tool to save time and soften your process. The naming of boxes also helps reduce the stress of moving because when you name your items along with their boxes, you don't need to remember where you kept your particular belongings.
You need to read the name on the box and open it according to your requirements. For example, whenever you reach your destination, you firstly need your kitchen item to cook and eat delicious food.
Sell Useless Items
Before packing, you need to choose those items which are not in use or, we can say, worthless things. And then sell them at a better deal. This single-step changes a lot in your moving when you sell useless items then its selling amount helps you financially and also saves your money when you hire professional movers for example when you have to deal all useless material thus you will have only limited items for packing and loading which help to save your transporting charges as well. 
Donate Extra Material
If you have an extra pair of items, it is better to donate them when they are not in use. If you don't want to sell your additional products thus, it is another option to donate. Sometimes, you have to leave your belongings at your old place due to heavy loading. So it is better not to waste your money and time. 
Heavy Items & Tiny Boxes
It is because the heavy items are not easy to hold and carry, but if you pack heavy items in small packs, it is pretty easy to carry and load them. You can use numbering at your boxes according to your concern.
Schedule Your Task
Making a simple and easy checklist of your task is an easier way to complete a task with total efficiency within a time limit. The best check to-do list has to be the task department according to their time taken virtue. One category has tasks that can be evaluated in a small unit of time. Another consists of those having more than one day because this category's task may fluctuate according to your perspective.
Take Extra Care Of Your Plants And Pots
According to their breed and roots, plants are living things that require fresh air, sunlight, and a perfect environment. But it is our responsibility to take them as far as possible. While reaching your destination, the first duty is to place plant pots in their perfect place, where they can feel free, unlike you.
Ensure Subscription
We need the most obvious supply such as electricity, internet, gas, and TV subscriptions. While shifting into a new house, you have to complete all formalities for taking these fundamental requirements, ensuring their proper functioning and maintenance.
Security System
It is most important to feel safe in your new house by installing detection applications, setting up cameras, and operating a full-fledged security system. It is more critical to secure your new home along with your family.
Social Handle And Address
Change your address so your bills, packages, orders, and letters at a time. This is one thing everyone forgets to do until and unless they realize their parcel is not reached yet. You also need to change your address at your portal where you have applied for a job. Because after changing addresses, you occupy more opportunities according to your new location. 
Set Up For Baby And Pet
It is essential to make a suitable place for your kids and loveable pets before unpacking your boxes. Before spreading stuff all around in your new house, check an utterly comfortable area in the home before unpacking your boxes because we know unpacking is a time-consuming process. 
Hire Professionals
One of the better options is to hire professionals for your new house setup. Experts have their own experience and value of work; they know better about unpacking, assemblings, and placing things in their perfect place. For example, some people don't know how to place, where to place, etc. When you hire experts, improve your efforts by rectifying them. 
Proffesinalist sometimes consider interior designing as well. It helps to make your new place your dream destination, and experts also try to do things to make your comfort zone. They have a list of every task and plan as well. They execute every plan according to time limits and accuracy.
Conclusion
Moving into a new home is overwhelming, but following these essential tips can help make moving a bit easier. It's a lot to do, though, so don't feel awkward asking for help; mainly, we have listed all important tips that help, but if there are any things that you want to ask so, please ask freely we are here for you. Our professional moving services are here to provide you with the best comfort.
We have provided many articles and blogs to solve your every query, so please visit here! 
To know more contact us now, you can
Call us at: +1-6479322202

Or Can also mail us on: info@movingchamps.ca
Are you looking for short-term storage services in Canada?  Short-term storage means a place where for a temporarily short period, you can store your items safely and can access them whenever you need them. Storage can consist of things that might not be currently...
Summary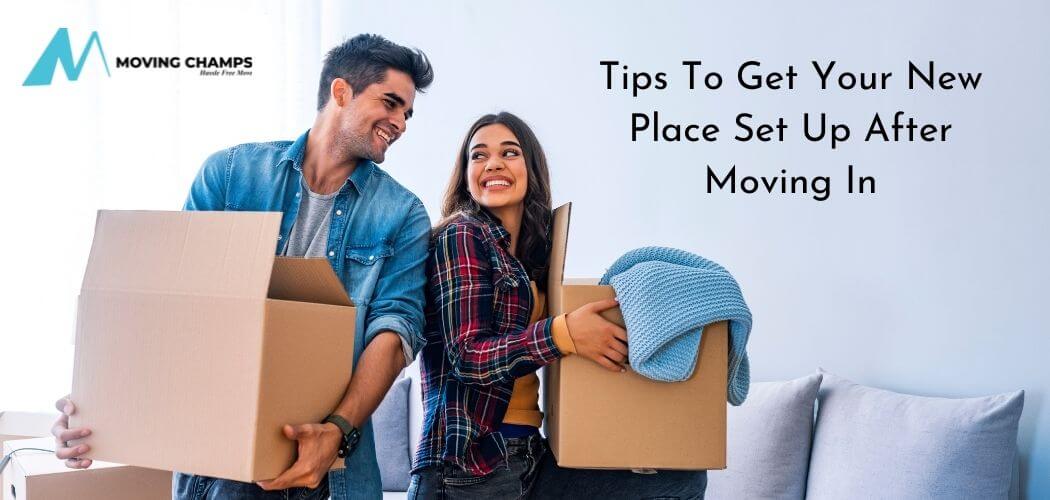 Article Name
11 Tips for Moving Into a New Home
Description
Moving into a new home is overwhelming, but following these essential moving tips can help make your move a bit easier.
Author
Publisher Name
Publisher Logo