When people ask us when the best time to relocate is, they usually think of the warmer months. On the other hand, Winter relocations have advantages, including being more cost-effective.
While the warmer weather in the spring and summer makes moving days more predictable, it's also a busy season, so you might not be able to acquire your preferred day or time. Furthermore, your moving fee may be more significant during peak season, and organizing your move out and move in days with your building may be more difficult.
If you don't have an option but to relocate during the winter, the good news is that you'll save money. Because it is the off-season, reduced rates are widespread in the business, and you will get the job of your dreams.
Professional movers have lots of experience moving in adverse weather and know how to keep you and your belongings safe. Don't be afraid to book your winter relocation with confidence if you follow our advice.
These Are The Most Important Things To Remember During The Coldest Months Of The Year
Delays Are All Too Common
With colder weather and unpredictably unpredictable "forces of nature" like snow and hail, you'll need to plan for traffic, road closures, and potentially severe weather.
Movers will work quickly according to your timetable, but in slick or hazardous conditions, the focus is to get your belongings to their destination safely. Taking extra precautions can result in more time loading and unloading your possessions and colossal furniture.
Your movers aim to exceed your expectations; they don't want to let anyone down. Making oneself familiar with some weather surprises ahead of time will assist if inclement weather strikes and creates significant delays. Your move may need to be rescheduled due to extreme weather or road closures. Still, if you use a professional moving company it will be a Piece of Cake, your movers will communicate with you effectively and work with you to find the best feasible option.
Organize Yourself
This is an essential tip for any move, regardless of the weather. On our blog, you should read our online guides on which rooms to pack first, how to handle all parts of your move and the moving day checklist.
The following are some essential guidelines to follow when moving:
Sort and purge your belongings.

Why pay to have items moved that you don't need or want once you've settled into your new home? The quality of your unwanted objects and the material they are made of will determine whether you donate, recycle, or dispose of them. Excess clothing, unread books, aged furniture, and broken appliances are the most common objects individuals discover while packing. Identify them right away, get rid of as many as you can before you start, and set aside a spot for everything you'll donate to charity. Make sure they're clean, undamaged, and in good working order.

Pack the rooms that are the least important initially.

Dining rooms, studies, and basements are just a few examples of spaces that can be crammed in ahead of bedrooms and restrooms. Leave some essential equipment out for basic cooking and dining, but pack up infrequently used appliances and gadgets first while cleaning the kitchen.
Maintain Communication With Your Building's Management
Any winter move should include some flexibility, as unplanned changes due to natural forces are more likely from December through March. It's critical to know how to change your schedule and what your building management team may ask you.
Make a list of all key decision makers' phone numbers and email addresses if you need their assistance right away. Check the weather forecast ahead of time, and if it seems iffy a few days before your move, warn them it's possible your timings may be influenced by weather, and ask what you can do together to resolve any delays.
Finally, they understand that the safety of all property occupants and common areas is a top issue, and they will want to assure it just as much as you do.
A rescheduled move could result in:
To accommodate delays, have your movers work later.

Elevator times have an impact.

Change your plans to a different day.

Require your possessions to spend the night in storage.

If your destination does not allow you to arrive on your new dates, you should get a hotel room.

Require that your buildings' certificates of insurance be updated (COI)
Make Sure That Both Pick And Drop Locations Are Save 
The most significant safety hazards during a winter move are snow and ice. Getting a broad, heavy piece of furniture down a narrow driveway on a moving trolley is difficult in summer, let alone on a path covered in ice and restricted by thick snow.
While shoveling snow from the driveway and salting or treating walkways may be the last thing on your mind, it is your obligation to see them through. This is a step in the process that your moving company will not handle, whether you, your building super, do the task or enlist a neighbor's help.
Before your furniture movers arrive, ensure these areas are cleared and shoring up for safety. That means making sure all roads between your old and new homes are broad and clear so your movers can do their job safely and effectively.
Conclusion
It's worth having hot cocoa supplies or a few logs to start the fire for your first night in your new home, so you can reflect on a successful winter move before the bustle of packing begins.
There is no better weather to spend inside, unwrapping and putting away your home stuff, than a chilly and rainy winter day.
Make the most of moving in bad weather, regardless of your circumstances. Keep in mind that there is an end in sight, full of fresh possibilities and adventure. Moving Champs has everything you want for all of your storage needs, from a wide range of storage unit sizes and options to distinctive features and ideal locations – all year round.
To know more contact us now, you can
Call us at: +1-6479322202

Or Can also mail us on: info@movingchamps.ca
Are you looking for short-term storage services in Canada?  Short-term storage means a place where for a temporarily short period, you can store your items safely and can access them whenever you need them. Storage can consist of things that might not be currently...
Summary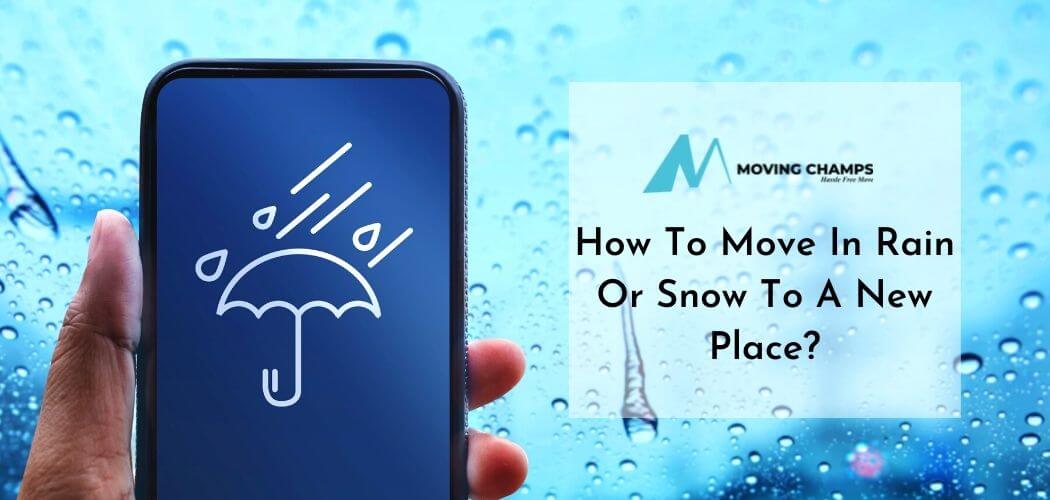 Article Name
Tips for Moving in the Snow
Description
Winter relocations have advantages, including being more cost-effective. While the warmer weather is a busy season, so you might overpay.
Author
Publisher Name
Publisher Logo