Moving from one place to another is a very stressful process. We have to look after lots of things, deal with lots of changes. If you are shifting within a state, things might be easier, but it must be way more complicated if you are moving across the state. Shifting across the state is a long process. You have to cover the long journey, and like you, you also have to suffer the same.
There were many queries in your mind, like whether your luggage would survive. There must be lots of thoughts in your mind like
Are they safe?
How could they cover such a long distance?
What if they broke?
What if they are misplaced? and many more
It is pretty normal to worry about them because they are essential parts of your life.
Do you have any thoughts regarding packing, too, that how packing helps us stop letting it break?
Don't worry! we will provide you with some beneficial tips that reduce your stress by making your cross-state move easy. We will tell you how you can reduce risk, be stress-free in this process, and some packing tips to avoid breakage.
Stock Up On Packing Supplies
The most important thing in moving is packaging for your stuff, so start stocking up your packaging stuff. Make sure you invest your amount in good quality packing. This is going to save your things from breakage. You can visit any nearby shop or place your order online, where you can get your items at your doorstep.
Everyday items that you should keep in mind while purchasing were bubble wrap, plastic wrap, cardboard boxes, and packing blankets. If you stock all these items with appropriate sizes early, this will help to lessen your stress, and if in case there is any shortage, you can restock them within time.
Start Shifting Early
If you are shifting or moving to another state, you have to start early. It's like shifting your whole state. If you wait for the last moment, then there will be the bulk of stress in your head, and till the day of moving, you will surely mess it all up. So it would be best if you started early. By starting early, you will do it properly.
Half of your stress will automatically go if you are ready with your packaging on time. There is no possibility of forgetting anything. A free mind is more creative than a stressful one to invest in other things. In this way, you are ready on time, resulting in stress relief. 
Clean Before Packaging
The most important thing you should focus on if you are shifting to another state is your stuff, as it has to cover long distances, so you should be very protective of your stuff. Make sure you wash your stuff thoroughly with water and make them sun-dry.
Don't skip this step as your luggage has to cover a long distance. If it is moist, this may damage your stuff, and cleaning is also necessary as there must be spiders and bugs on your property that are not suitable for them.
Double Packaging
The most focused thing in your moving journey is packaging, as it has been shifted to another state. You don't know how many times they were transferring your stuff from one vehicle to another, and you don't know you are gentle while transferring it, and many things are in your mind.
You can't observe them all the time.
You can make ready your stuff for all these things by packaging. It would be best if you gave it a packaging in a way that it can deal with all these changes.
For this first, focus on delicate items like something of glass. Make sure to wrap them with bubble wrap twice and use a thick packing blanket for security.
If you pack your fragile items in such a way, then surely it will lessen the chances of breakage also, don't forget to add the label on which it should be written delicate items so that movers will also be careful while lifting them.
Don't Carry Items With Less Life
Also, an essential thing you should keep in mind is don't carry items with less realistic plans, fruits, etc. You don't know how much time it will take to reach their destination, it may take many days, and these items can't deal with it. Plants need oxygen and water to survive.
They will surely die with this condition, so it's better not to disturb them, let them bloom in their places, and carrying open eatable items is a waste of that item, but it also ruins your whole stuff with its stinky smell. So it is better to take those necessary items and have a long life.
Ask About The Moving Companies Refund Policy
It is the specific amount that each movers company provide if any of your item break of misplaced. Though by following the above tips there will be no chances of breakage we can't deal with the loss of your stuff, so it is better to be clear with the company about its refund policy and also don't forget to clear the whole procedure of refund before handling your stuff to them.
Research About The Moving Company
Before handling your stuff to a stranger, make sure you have done good research. Try to work with an experienced company. Before hiring them, research the company, check its customer reviews and ensure that it isn't a fraud. Also, try not to trust any new company which don't have any customer review.
Once you are done with company research, check the staff's background who took your stuff. Maybe they were in charge of any drug case. Only handle your things to them once you are confirmed with all this.
Conclusion
There were many queries in your mind regarding shifting. All your answers are there on our website, Moving Champs Canada. Using these tips, you can quickly deal with the cross-state moving.  
To get free moving quotes contact us now, you can
Call us at: +1-6479322202

Or Can also mail us on: info@movingchamps.ca
Are you looking for short-term storage services in Canada?  Short-term storage means a place where for a temporarily short period, you can store your items safely and can access them whenever you need them. Storage can consist of things that might not be currently...
Summary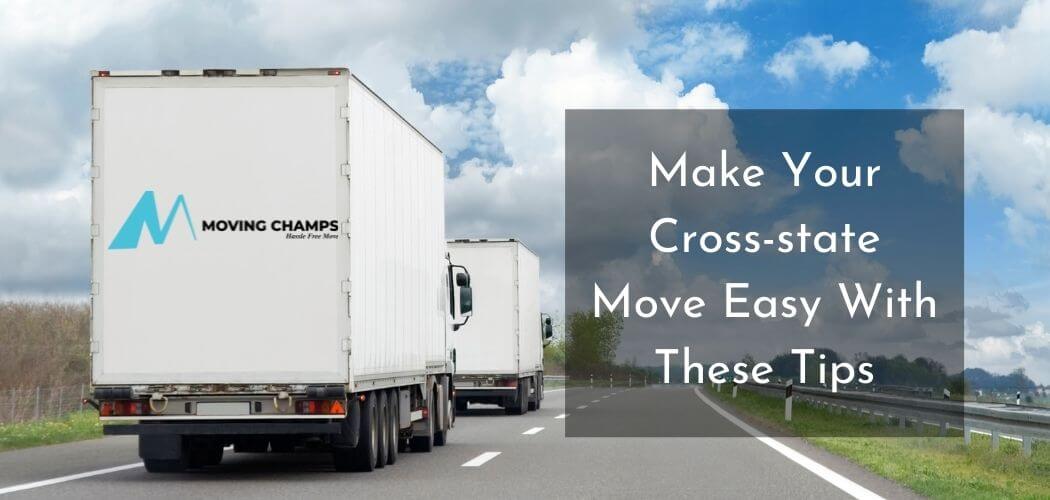 Article Name
Tips for moving across the country | Moving Champs
Description
Shifting across the state is a long process. You have to cover the long journey, check these tips for moving across the country.
Author
Publisher Name
Publisher Logo