If the mere thought of having to move makes you feel overwhelmed and agitated, the near future does not look promising. And you have every reason to be concerned, not only because the moving process is tiresome and challenging, but also because you will be forced to leave your old life behind and may lose some of the essential things to you, such as your favorite hangouts and excellent company.
With careful planning and intelligent decisions, you may meticulously organize all moving operations and avoid numerous problems.
However, no matter how hard you try, certain things are too difficult to move. You must be exceptionally well prepared – abundantly so – to complete your relocation successfully.
So, why are some things more challenging to move than others? Various characteristics make moving some goods from one location to another nearly impossible:
1. Plants
Movers will not accept plants, but you can pack your flowerpots in boxes and store them in the trunk or arrange them across the backseats of your car. If you're only going across town or a short distance, there's a good chance they'll make it.
On the other hand, moving across the country is a very different story. You can still get them to your final location, whether by car or plane, but you must prepare them with extra caution, and there are no guarantees that they will survive.
Also, check local restrictions in your future state or nation to see if you can "import" your plants and how much you'll have to pay.
2. Pets
Shipping live animals across the country are challenging, but it is still possible if you know what precautions to take to keep them safe. It is customary to visit your veterinarian to ensure your pet's physical well-being, obtain any immunization records or health certificates, and seek guidance.
Then you'll need to get your documentation in order (don't forget to check any local rules and shipping requirements), find an acceptable shipping container, and provide for your tiny friend's comfort – food, water, toys, or whatever is appropriate in your situation. Of course, it is preferable if you can transport your pet in your vehicle.
Aquarium with fish — not only are fish too delicate and unlikely to survive a move, but their water-filled glass housing is also challenging to relocate. The tank itself is a formidable opponent.
You'll need to keep the same water plants and bacteria colony, the same pebbles and other ornamental elements, and the same fish, inadequate holding containers full of water drained from the tank.
Also, remember to keep any connected equipment properly, such as filters, heaters, pumps, etc.
Birdcages — transporting your bird in its cage is the most accessible and most appropriate alternative, but you'll need a commercial hard plastic kennel cab for shipping if you're flying.
In either case, you should cover the container with a lightweight cloth to prevent stress for your feathered friend, line the bottom with paper and fill it with seeds that the bird may eat, and place some juicy fruit inside, because the water receptacle must, of course, be removed.
For additional security, tie wrap all four sides and the door.
3. Heavy And Bulky Items 
It's no secret that moving bulky furniture and strangely shaped appliances is challenging because they can easily be damaged or cause property damage. Special precautions must be taken to avoid harm throughout the process, and you must examine several variables before attempting the task:
Are the objects going to be able to fit through the doors? – plan ahead of time by measuring door frames, corners, passageways, and stairwells;
Do you have the necessary moving gear? – a dolly, blankets for furniture, moving pads, and straps;
Are the items correctly packed? – empty drawers and cabinets and deconstruct as much as possible; cover small items and protruding parts (such legs and knobs) in blankets, paper, and/or bubble wrap; stretch tape doors and drawers; pay special care to glass cases.
Have you set up your appliances? – Unplug, empty, and carefully clean them.
4. Glassware
Moving glass is not difficult; the challenge is keeping them in one piece. However, if properly packed, they should be able to withstand your move. Get enough resources and take proper care of your breakables. The time spent in the procedure will save you a lot of stress regarding unpacking.
5. Electronics
Once again, the key to preserving expensive and sensitive electronics in good condition is to use the proper packing procedures. You have a reasonable probability of succeeding if you have kept the original boxes.
If you don't have any, look for robust boxes in suitable sizes.
Padding should be plentiful, and the bottoms and corners should be reinforced—secure screens with packing tape and a soft towel or smooth cardboard. Wrap huge TVs in blankets and never lay them on the floor.
6. Arts
The monetary and sentimental value of delicate art pieces is usually very high. Heirlooms are particularly difficult to transfer since even the prospect of something horrible happening to them might trigger a panic attack.
Glass and frames are best protected with bubble wrap, but cardboard pieces affixed to flat sides also assist a lot. Place securely wrapped paintings in a solid box side by side and sculptures in larger containers with plenty of padding.
7. Specific Equipment
Musical instruments and sporting goods add to the list of difficult-to-move items. Guitars and other instruments in constructed containers are usually adequately preserved, but moving your piano or drum set will undoubtedly cause problems.
Lifting and carrying unusually shaped and/or extremely heavy instruments is not only challenging, but the risk of harming them increases dramatically with each flight of stairs or sharp corners. If you're moving a piano, you might want to hire movers who specialize in moving pianos.
When it comes to gym equipment or your golf clubs, all you have to do is pack them carefully. Disassemble as much as possible, wrap the parts tightly, and fasten them.
If you're moving a pool table, you'll need four dollies instead of one, a complete set of tools for removing every component, and a large sum of money for transportation. Expert assistance is strongly advised!
Tools can also be a moving challenge because they can be dangerous if not properly prepared. It is recommended that you combine long-handled instruments by size and knot them together.
Smaller hand tools should be packed in sturdy little boxes, with any sharp or cutting bits securely wrapped in layers of rags, towels, bubble wrap, or other protective materials.
Conclusion
That's all you need to know while moving your stuff to the desired place and if you go through any issue regarding your move then feel free to contact us anytime. Moving Champs Canada is a renowned moving company and will be there to solve your issues anytime.
To get free moving quotes contact us now, you can
Call us at: +1-6479322202

Or Can also mail us on: info@movingchamps.ca
Are you looking for short-term storage services in Canada?  Short-term storage means a place where for a temporarily short period, you can store your items safely and can access them whenever you need them. Storage can consist of things that might not be currently...
Summary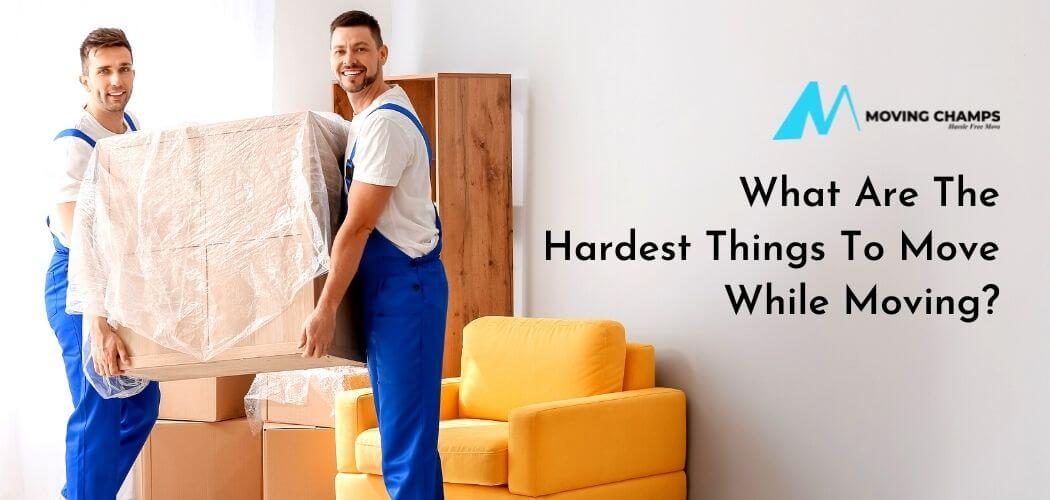 Article Name
The hardest thing to move while moving
Description
Make moving some goods from one location to another nearly impossible. here we will inform you about the hardest thing to move while moving.
Author
Publisher Name
Publisher Logo