Once you decide to move into a new place, you have to fix many things before leaving your old home. When you got the news that you were shifting and then if you look back to your house, lots of mess would be created in your mind you must be having many queries in your mind as you see there is lots of stuff there, you can't get how will you shift them to a new place, and there is much stuff which you can't even use.
Is it worth it to take with you?
You have to organize your kitchen, garden, garage, and whole house before moving, and you don't know how to start.
What to do?
Worry not first. Take a deep breath and have water.
Let's work on everything step by step, which will make this moving easier for you. We will provide you with some tips which will help you to work on efficiently organizing your old house.
Stress takes birth when too many things are in your mind, and you will be worried about how to start it and how to do all the things in such a small period of time. So first, burst this stress by taking one step at a time.
Let's start with the first place of your house, which is your garage. Here are some tips which will help you to organize your garage quickly.
Get Rid Of The Stuff You Don't Need Anymore
The primary key to stress is holding too many things. If we release these things, the stress will automatically terminate. Start the process by organizing your garage and releasing your tension. Indicate too much stuff as stress as they are the reason for your it. We know it's challenging to find out which things you use so we can do one thing.
First, make the list of items you need for your garage, which could be helpful for your new garage. When you are done with your list, you can find the stuff you don't need anymore. We know there were many things you don't want to detach from, or maybe you have something with a great memory.
If something is meaningful to you, you can take that item, and the rest you can donate. If you donate to someone needy, then there will be no guilt in your mind. 
Look After The Things You Need In Your New Garage
When you are done with the things you don't need anymore, it's time to focus on the things you need in your new garage. You should mentally make an image of how your new garage should look. After creating the image:
Select the image and keep the selected items aside.

Make the final list of garage things you talked about and other stuff.

Just sell them or donate them if you were attached to them.
Clean The Selected Items
You are only left with the items you have selected for your new place. You have imagined your dream garage with those items.
why would you take them in their dirty condition?
This may ruin them during the journey, and this would also create a significant problem when you unbox them to arrange them at your new place. So now it's time to clean them.
Clean them with soap water thoroughly and make sure there shouldn't be any dirt, spiders, or bugs left. Once you are done with the washing part, it's time to focus on the next most crucial step, sundry.
It is the most vital step because it impacts your item severely if we pack the wet items. This process also helps in killing unseen germs and bacteria. So don't make this mistake and let your item dry completely.
Pack Your Items
After cleaning and drying your items, now it's time to pack them. For packaging, you need first to purchase packing stuff. You can easily buy it from your nearby shops or choose the online medium. You need to select the property, and within a few days, they will bring your items to your doorstep.
If you go through any confusion regarding what things you should purchase for packaging, you can order cardboard boxes of different sizes as per your items. After this, you should buy plastic wraps that protect your items from moisture; Bubble wrap for delicate items like items with glass top, and wrap your item lessens the chance of any breakage.
If you are still insecure about your things, you can also invest in a thick packing blanket. This will give double protection to your item, and don't forget to purchase wrapping tape to secure the boxes once you put your item in them; after this, take label stickers to paste them in your boxes and mention the lightboxes so that movers will keep in mind where they have to be careful.
Clean Your Garage 
So now you are done with packaging your stuff for your new garage, You were almost done with your first part, but your step is incomplete without cleaning your old garage. You just rearranged things, and there must be lots of dirt there.
Many of you will think, why is it needed when I am shifting to a new place? But it would be best if you had this. If you make your back path clean, you will move forward with a positive mindset. And you don't stress that something is undone. You can move forward freely.
Conclusion
You were done with your garage, but other parts of your home are still left. I hope our tips helped you and made your moving journey easier. You can find them and other queries regarding moving at our website Moving Champs Canada.
To get free moving quotes more contact us now, you can
Call us at: +1-6479322202

Or Can also mail us on: info@movingchamps.ca
Are you looking for short-term storage services in Canada?  Short-term storage means a place where for a temporarily short period, you can store your items safely and can access them whenever you need them. Storage can consist of things that might not be currently...
Summary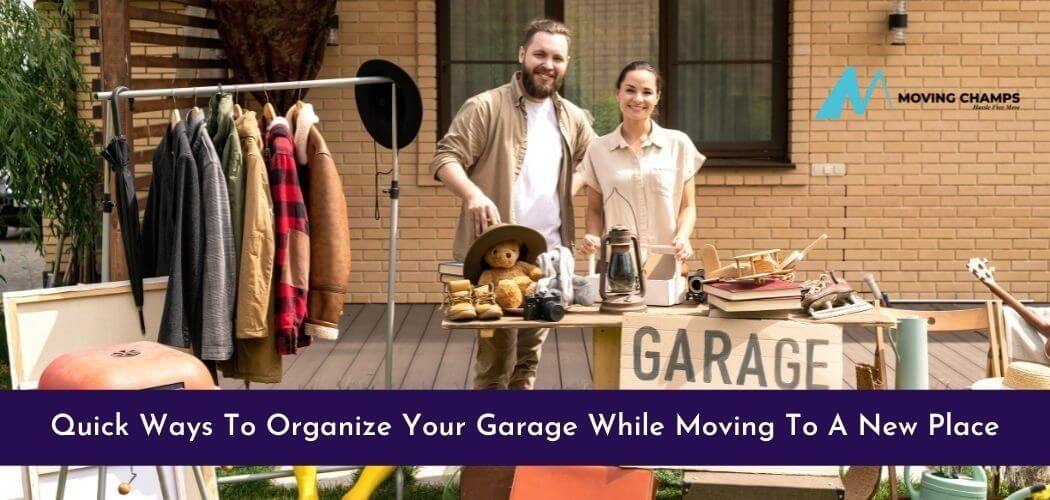 Article Name
5 quick and cheap garage organizing ideas
Description
Let's start with the first place of your house, which is your garage. Here are some quick and cheap garage organizing ideas.
Author
Publisher Name
Publisher Logo