When calculating the cost of moving, many people overlook the cost of moving supplies. Materials can quickly add up, so make sure to factor them into your budget.
The cost of your moving supplies will vary depending on what you purchase. You might not need a padlock if you're moving locally because you won't be leaving items in your truck overnight. Similarly, you may already have some things, such as a toolbox and cargo straps.
The cost is also determined by how much you have to move and the type of move you select. The more items you have, the more supplies you will require.
You will require numerous items when packing for a move, and not all of them are readily apparent. To help you, we've compiled a comprehensive list of all the moving materials you'll require for your next move—some of which are required, while others are simply nice to have.
Which are as follows:
Various sized boxes

Tape

Scissors

Box cutters

Sticker labels (if not using masking tape)

Sharpie permanent markers for labelling

Colored markers or stickers to colour code rooms 

A hand truck or dolly to protect your hands while moving 

Gloves to keep your hands safe while moving

Rope, twine, tie-downs, and bungee cords for securing boxes and furniture
Boxes
Purchase cardboard boxes or rent some plastic moving boxes to store your belongings in.

If you decide to use cardboard, keep in mind that you'll need a variety of sizes, including small, medium, large, extra-large, and wardrobe boxes.

If you're going to rent plastic bins for packing, give your rental company as detailed an inventory as you can so you get enough.
Tape For Packing

 
Purchase plenty of high-quality packing tape. You'll need it for building boxes and sealing them once complete, so skip the dollar store packing tape and splurge on more durable tape. You'll probably need more than you think, so buy an extra roll or two just in case.
Paper For Packing

 
You'll need a lot of packing paper to wrap fragile and sharp items in and add cushioning and stability to boxes. Only buy ink-free packing paper because the ink can bleed onto your belongings.
Wrapping In Plastic

 
You don't need to buy a moving-specific plastic wrap, but you should have at least one roll of sturdy plastic wrap on hand to wrap around specific items. It's beneficial for keeping similar items together (wrap up that stack of plates so they all don't shift around) and preventing bottle leaks (remove the caps from liquid-filled bottles, wrap them in plastic wrap, and screw the lids back on.).
Cushioning With Bubbles 
Wrap extra-fragile items, such as glass, ceramic, and porcelain. It can also provide much-needed padding around things once placed in inboxes.
Baggies Made Of Plastic

 
Small plastic sandwich bags are ideal for storing small items that would otherwise be misplaced. Use them to hold all the screws that you remove while disassembling your furniture and any other small pieces that are easy to misplace around your home. Make sure to label each bag of parts to know where each article belongs.
Set Of Tools

 
When it comes to disassembling your furniture, you'll want to get the essential tools you'll need (if you don't already have them). Keep your tools handy, as you may require them on moving day. A screwdriver and wrench with a variety of heads should be adequate.
Markers And Labels

 
When it comes to labelling the belongings, you can either write directly on the boxes with a permanent marker or use labels and a marker (the latter is preferable if you're using plastic bins). You can also use colour-coded stickers to determine which room a box should be placed in quickly.
What should you put in your moving day box?
House keys have been replaced now, which means time for new ones.

Cash/credit cards

Bags of instant coffee or tea

Snacks

Water in a bottle

Meals that are simple to prepare include pasta and sauce, cereal and milk, bread and peanut butter, etc.

First-aid supplies

New batteries for a flashlight

Batteries in reserve

Matches or lighter

Lightbulbs

Medications are taken daily

Electronics for personal use (laptop, tablet, eReader)

Phone and electronic chargers (laptop, tablet, eReader, etc.)

Documents of importance (passports, insurance, licenses, etc.)
Don't forget to pack a treat for yourself. Moving can be a long and the most exhausting process, so bring something to help you unwind.
If you hire professional movers, especially us, you won't have to worry about the above-mentioned moving day issues. Movers will have everything they need to protect your belongings and what they need to lift and carry items.
Conclusion
Moving to a new location with all of one's belongings is a difficult task, made even more difficult by Canada's harsh weather. That is why most people hire the best movers and packers in Canada to move and relocate their belongings safely from one location to another.
Moving Champs is also well-known in the moving industry as one of Canada's top-rated and trusted moving companies, providing moving services at the most competitive prices to their customers.
They are a one-stop shop for all moving services needed for a stress-free move. Moving Champs will be an excellent choice for finding the most dependable and affordable moving company.
You may be tempted to get all of your moving supplies from a moving company—after all, it's a one-stop shop with boxes, tape, and whatever else you can think of—but you can usually save money by getting the majority of your supplies elsewhere.
You can save money by renting supplies from a moving company rather than purchasing them outright.
When it comes to moving supplies, moving boxes and packing tape are just the tip of the iceberg for packers and movers like us. You can contact us on Moving Champs Canada if you want to save money on moving supplies.
To know more contact us now, you can
Call us at: +1-6479322202

Or Can also mail us on: info@movingchamps.ca
Are you looking for short-term storage services in Canada?  Short-term storage means a place where for a temporarily short period, you can store your items safely and can access them whenever you need them. Storage can consist of things that might not be currently...
Summary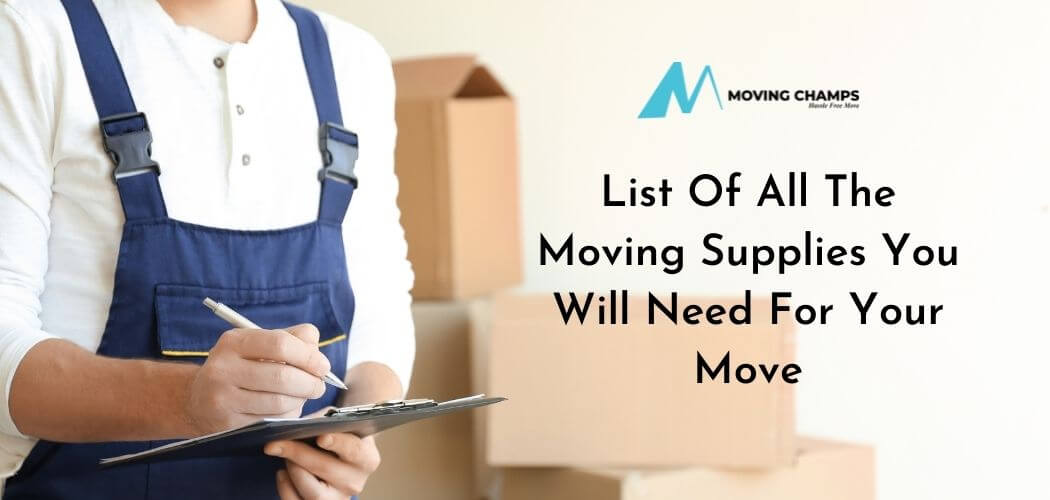 Article Name
Packing supplies for moving list you will need for your move
Description
Here we are providing some packing supplies for moving list for you which will help you for your next move.
Author
Publisher Name
Publisher Logo