Moving has become such a common occurrence in today's culture that it has become a "hot" topic. Everyone appears to have a moving story to tell and some comforting advice to impart. Everyone has heard a couple of moving horror stories and a few common moving superstitions.
Many of these stories have a few elements in common; similar occurrences are recounted numerous times; particular opinions are repeated repeatedly. The same recommendations and warnings can be found all over the internet – leading people to believe they are factual. Accidental deeds become commonplace, rumours become facts, and personal beliefs become universal truths – this is how moving myths emerge.
While some typical moving myths are true, others are serious fallacies that can lead to substantial relocation mistakes if accepted at face value. So, when making your relocation plans, make sure you don't base your judgments on urban legends; instead, look into the realities.
Here Are Some Of The Most General Myths About Relocating Disproved, Along With The Truth
1: Moving Oneself Is Less Expensive
Fact: Renting a moving truck may be less expensive than hiring a moving company, but the overall moving costs are likely to be the same.
What do you mean by that? When relocating on your own, the cost of a truck rental isn't the only thing you'll have to pay for — you'll also have to pay for: additional moving equipment (a dolly, furniture pads, moving straps, etc. ); packing materials; moving insurance for your items, etc.
You'll also need to present some snacks and refreshments and modest gifts to your good friends who come to assist you in moving (since you won't be able to handle your heavy furniture and other bulky items yourself).
These little costs add up rapidly, and when you do the arithmetic, your DIY move may not be significantly less expensive than hiring professional movers. And that's assuming you keep all of your belongings safe and sound during the move; otherwise, you'll end up paying far more for replacement and repair than you would have for a full-service house or office move (needless to say, the moving experts would have ensured the safety of your precious items and performed your move in the fastest, smoothest, and most efficient way possible)
2: It Makes No Difference Which Movers You Hire Because They Are All The Same
Fact: Different moving firms charge different rates and have additional terms and conditions and various added services and features. Not all movers have the same level of experience or equipment.
Some are licensed and insured appropriately, while others are not. Some have a track record of providing exceptional customer service and receiving 5-star evaluations, while others try to take advantage of unsuspecting clients.
So, before you pick the first movers you come across or the ones who offer the best deal for your move, do some research to ensure you're giving your belongings to honest, competent, and trustworthy movers:
Select three or four reputable companies that seem to best suit your needs and requirements and ask them for on-site estimates

Interview the company's representatives who come to your home and gather as much information about the moving companies and your house or office move details as you can.

Compare the offers they provide and choose the best team of movers for you.
3: Any Box Will Suffice
Fact: Boxes that aren't made for moving can't support a lot of weight or sustain damage. They quickly come apart and cannot be placed safely and efficiently in the moving truck, increasing the risk of harm to your things.
When packing for a move, the boxes you use should be robust (so that your belongings are well-protected) and uniform in size (they can be easily stacked upon one another).
You can buy empty cardboard boxes from supermarkets or other local businesses, but they won't be robust enough to keep your stuff safe. You can borrow secondhand moving boxes from friends, neighbors, or coworkers who recently relocated, but they may not be in good condition. 
4: There Is No Spot In Inventorying Your Belongings And Labelling Your Boxes
Fact: A moving inventory can assist you in organizing and tracking your goods practically and systematically during the move process. When you have a complete inventory sheet to refer to, labelling the boxes will be quick and easy, saving you time and aggravation upon delivery – the expert team of movers will know where to take the moving boxes when unloading them at your new house, and it will be simple to find what you need when unpacking.
When you see all of the objects you want to take to your new home written on your moving inventory sheet, you'll be able to estimate how long it will take you to pack them for shipment and establish the kind and weight of each item.
5: Everything Will Be Moved By Movers
Fact: Some items are prohibited from being moved by movers for legal, ethical, or safety reasons.
Because some household items are hazardous to carry due to their unstable nature (explosive materials, chemicals, etc.) or are forbidden to move (weapons, liquor, etc. ), the movers will not transport them for you.
They will not accept perishable food (which may spoil during the transfer and cause harm to the rest of your precious belongings), plants and pets (which may not survive the journey in the moving truck), or emotional goods (which cannot be replaced if something goes wrong on the road). You must either discover a way to transfer these items yourself or dispose of them.
Bonus tip: Request a list of the non-allowable things that your selected moving company will not move for you so that you don't waste time packing them and can figure out what to do with them.
Conclusion
So these are some moving myths people go through while moving their house or office to a new place. If you still have any doubt regarding your move or anything, don't hesitate to get in touch with us anytime. Moving Champs will be there to clear your doubts as much as possible.
To know more contact us now, you can
Call us at: +1-6479322202

Or Can also mail us on: info@movingchamps.ca
Are you looking for short-term storage services in Canada?  Short-term storage means a place where for a temporarily short period, you can store your items safely and can access them whenever you need them. Storage can consist of things that might not be currently...
Summary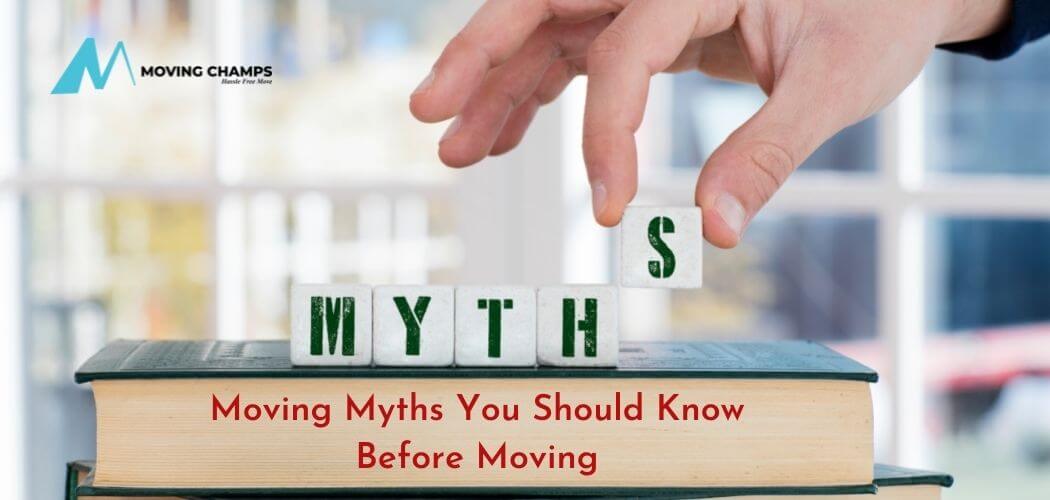 Article Name
Moving Myths You Should Know Before Moving
Description
Moving has become such a common occurrence in today's culture. We are providing some useful Moving Myths You Should Know Before Moving.
Author
Publisher Name
Publisher Logo