Well, moving from your place to a different location might be an exciting part because change is essential, but at the same time, it is the most stressful task. It's like shifting your world.
You have been living in your place for a long there must be lots of memories with the things, with the items, but you can't take every item with you. Changing house is both emotional and physical stress.
And shifting your luggage is the most stressful thing, it's like moving your whole world, but don't worry nowadays you can take help from movers for shifting your luggage, you need to pack your stuff, movers will come with their van and move it to your new place.
But in this too there will be lots of queries arise in your mind, like how to pack, which packing stuff to be used and many more, here we will provide you several tips about how can you pack your households before moving which will help to make your shifting easy.
Get Rid Of Unnecessary Items
Look after your stuff and separate the things you no longer need. There were many items in your house that you no longer need, but still, you are confused about which item you need to take with you.
So to clear this, first, make a list of the things you need; once's it done, you will find there are various items you don't need anymore. Many of you get attached to the old items to keep your most, but you have to get free of the rest of the stuff you don't need.
Anyway, this leads to lessening your worries regarding packaging and also you will find lots of unnecessary things that are occupying your place.
Clean Before Packaging
This is the most crucial step you should keep in mind before packaging. If you want to maintain your stuff, you should clean them before packaging it.
You can wash them with soap water and let them sundry. Don't make the mistake of packing wet items. Packing wet items may ruin the items. Before packaging, double-check the things if it is completely dry or not. If the items are completely dry, then only pack them. 
So you should clean and dry the items completely, this may reduce the chances of bugs and spiders, and it will be easier for you while unbox the items at your new place.
And try to separate the parts of the item if separable. And keep their screws in a separate box after cleaning them so that you can quickly fix them once you unbox them.
Start Early
It is linked with the second point: you should wash your stuff and make it sundry. To follow this process, you need to start early. And if you start early, you will be stress-free till the day of moving and can focus on other things.
If you start your packaging late, you must be in stress that you need to do a lot of stuff as packaging is the most crucial part of shifting, so it will come to your mind that you are left with the whole process of shifting and if you start late when will you wash your items or dry them.
There must be the possibility of leaving something behind. It will be the most stressful process, and if you start early, you can peacefully give much time to the most critical part of your shifting and efficiently clean and dry your stuff.
Now you have plenty of time, and you can recheck your items and add if something is left. This is one of the most prominent hacks for packaging, which keeps you calm and stress-free in the whole process.
Get Quality Packaging Stuff
The most important part of the packaging is packaging stuff. It would be best if you had quality packaging stuff; good packaging is essential for shifting as it protects your items from breakage.
To give excellent care to your luggage, you need good quality packaging. Things necessary for the packaging are a plastic wrap, packing blankets, boxes, wrapping tape, bubble wrap, and labels.
These are the most vital part of the packaging. If you are packaging the most delicate item like glass, you can wrap it with bubble wrap as it protects the thing from breakage and moisture.
Then you can cover it with a thick packing blanket for extra protection, and after that, you can transfer it to the cardboard box and then label it. Also, don't forget to mention that the item is delicate as movers will also care for those boxes.
You can wrap them with plastic wrap for everyday stuff, transfer them to the boxes, and label them. Before shopping for your packaging, make sure about the size of the parcels and always check if it works so that it doesn't create an issue at the last moment. 
Take Luxury Items With You
Though movers may carry a lot of your stuff, there were some luxury items that you should keep with you, only some luxury items like jewellery, these mainly were light-weighted, and the work of the movers is to carry heavy boxes and these light-weighted items you can take by your own.
If you send them through movers, then there must be some stress and doubt in your mind like are they safe, they shouldn't be misplaced and many more.
To get rid of this stress, it's better to keep your luxury items with you only, and You can make a separate bag of these items and keep it safe with you while moving your house.
Conclusion
I hope these tips will make your shift much more straightforward and stress-free. Like this, many queries arise in your mind regarding shifting, and you can get all your answers at our website, Moving champs Canada.
Our website aims to make your shifting easy and stress-free. And our movers are always there to solve your moving issues anytime. So feel free to ask us regarding your doubt.
To know more contact us now, you can
Call us at: +1-6479322202

Or Can also mail us on: info@movingchamps.ca
Are you looking for short-term storage services in Canada?  Short-term storage means a place where for a temporarily short period, you can store your items safely and can access them whenever you need them. Storage can consist of things that might not be currently...
Summary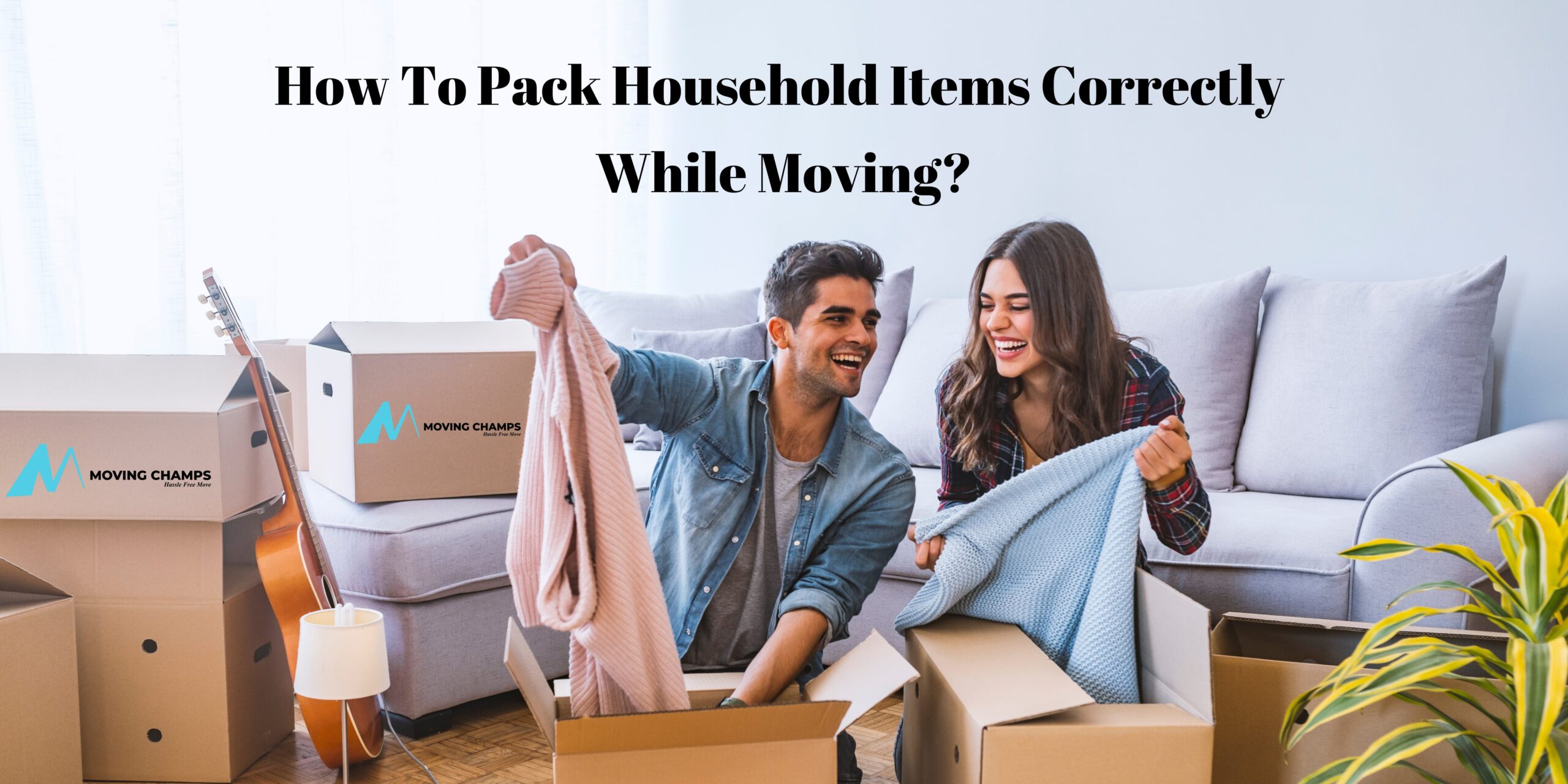 Article Name
How To Pack Household Items Correctly While Moving?
Description
Packing household items correctly while moving is necessary as it provides extra layer of protection to our precious belongings. Know more.
Author
Publisher Name
Publisher Logo