When you think about moving, and you hire movers for your help, then it is a better idea to overcome your stress and workload, but along with it, there is an important thing that you have to keep in your mind that is there are many things, you have to avoid moving them in movers truck.
It may be due to their life expectancy, state of viscosity, fragrance, diligence, and expensiveness. Furthermore, when you go for hiring mover expertise, they give you a good list of non-allowable things in moving trucks. When making a list of your loading items, you should separate items that you should carry in your Wallet.
These items may consist the personal use items, fragile items, or items that movers do not allow to put in mover trucks. It is easier to cure your valuables by losing.
Things You Shouldn't Move In A Moving Truck
1-Chemical Material- It is better to check the chemical stuff you have in your house, pick such valuable items, and throw the remaining things in the garbage. And it is not the end of the journey, but the critical step is unseen; the items you have picked in your chemical store never load in moving stuff. If these items are necessary, you can transport them in your vehicle or car. As we know, most chemicals are explosive, and they can cause trouble if they burst. The movers strictly prohibited flammable items.
2-Honey- Now you are curious to read this! I know honey is not a hazardous material, so why do we consider it under non-allowable items? Because if you put your honey with loose packing, it will scatter over your other items and ruin them properly. We have a situation with carrying honey if your honey is in a sealed pack box made of non-breakable material. If your honey is in a glass bottle, it is better to carefully take it with you in your transport.
3-Food Items- Movers also prohibited food items because when you are going for long-distance transportation thus, food quickly spoils within time and rotten food easily attracts mice and other pests. This is not good for all your items also. Food items expire and cause trouble. You have to keep food items on your own basically because if you need some snacks for eating, you can easily take them with extra hygiene level and protection.
4-Jewellery And Gems- If you possess expensive items like jewellery and gems, you are responsible for taking care of them yourself. As we know, transportation is the connectivity of roads and stops while transportation of trucks is inspected many times, so there are chances to steal your precious items by someone. Movers are also not allowed to put in mover's trucks.
5-Official Documents- If you are moving, the first important thing is to restore your documents, such as your qualification certificate, experience documents, and other official documents. These documents are essential to keep, and you have to take care of them independently. Never let your official documents on the mover's shoulders. Because you know the actual value of these documents, these documents will be just a piece of paper for movers.
6-Gadgets- If you have some personal gadgets such as cell phones, laptops, Tab, etc., your cell phones and laptop consist of crucial documents files of yours, so if while transporting these get damaged and even stolen. To overcome these situations, you have to keep these gadgets to your own in your car or personal vehicle.
7-Medicine- The essential requirement of medicine in a normal situation is first aid. It is necessary to carry it with you. Sometimes you meet sudden accidents that need first aid. If there is a long-distance journey, you must keep it with you. In another situation, if you are suffering from a particular disease, then make sure to keep your medicine safely. Suddenly, if your health gets disturbed, you can quickly cure it with your essential medicine.
8-Glassy Material-Everyone has framework, scenery, showpiece items, and fragile items like the watch, mirror, etc. these items require extra pair of care. It is essential to keep them safe. There may be the risk of damage in moving trucks due to long-distance transportation. If it is possible to keep them in your vehicle, it is better.
9-Tickets- If you plan to go out and book any convenient tickets, it may be trained, plane, etc., so you have to put in your wallet because it has lots of chances to misplace, so during the moving process, keep them safe first. Otherwise, you have to lose it and pay again for them. You also cannot put them in the mover truck because it may have risk to misplace also or we can say when you will reach your destination then you have to spend more time finding it in your packing and sealed boxes.
Conclusion
The moving process consists of many aspects where we have to choose right at the right time within budget. Our company provides complete details with deep blogs and on-site articles, providing comprehensive knowledge about our client's services and features. If you have any other queries, you guys can contact us on our site.
To get free moving quotes contact us now, you can
Call us at: +1-6479322202

Or Can also mail us on: info@movingchamps.ca
Are you looking for short-term storage services in Canada?  Short-term storage means a place where for a temporarily short period, you can store your items safely and can access them whenever you need them. Storage can consist of things that might not be currently...
Summary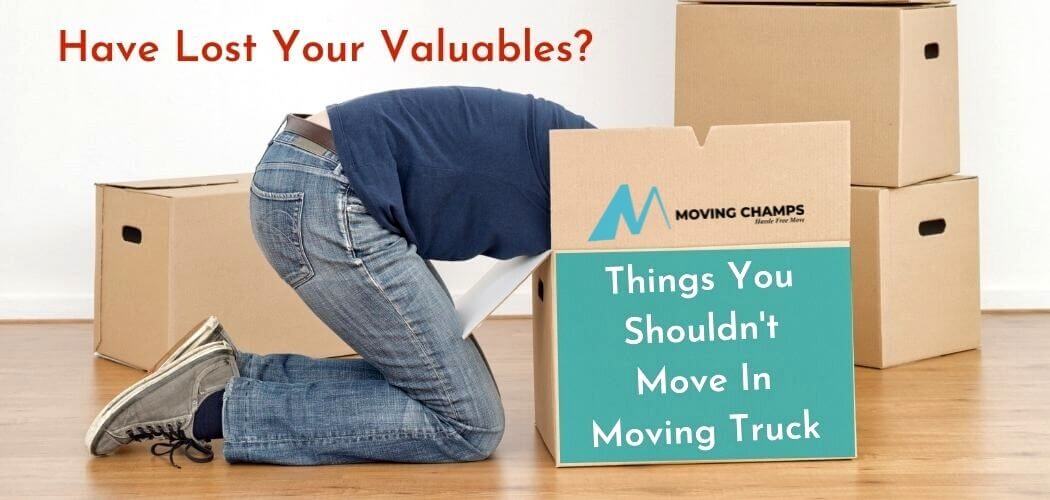 Article Name
How do you secure things in a moving truck?
Description
These items may consist the personal use items, fragile items, or items that movers do not allow to put in mover trucks.
Author
Publisher Name
Publisher Logo