Decluttering your household stuff is one of the best methods to ensure a stress-free move. Decluttering is also a terrific thing to pay tribute to the memories you made in your previous residence before embarking on a new adventure.
Even if you don't consider your home to be very cluttered, you have a few items lying around that you could do without. You'll find more if you look closely.
There's no shame in discovering that your home has turned into a storage unit for damaged, surplus, or expired items; it happens to everyone.
You don't realise how much household stuff you have until you relocate it to a new location. Suddenly, you're surrounded by things you didn't know you had or didn't know you needed.
When you're ready to move, it's the most significant time to get rid of everything you don't need. You will save your time, money, and a lot of effort by getting rid of goods you don't want or need.
You won't waste time packing up things you don't like or need if you declutter before you move. You will need fewer movers to help you get everything to your new home because you will use relatively fewer boxes, take up less space on the moving truck, and use fewer boxes.
Follow our room-by-room checklists below if you're unsure what to get rid of. We'll also provide you with some advice for getting started with decluttering at the end of the checklists.
In Kitchen
You'll want to eliminate everything in the kitchen that is broken, mismatched, surplus, or has never been used. This includes the following:
Food that has gone bad

Packets of sauce

Appliances for the kitchen

Utensils and kitchen tools

Cookware

Containers and lids made of plastic

Bottles of water and coffee tumblers

Cookbooks from the past
Food That Has Passed Its Expiration Date
Without even realising it, we all have a habit of storing outdated food. The most prevalent offenders are condiments and sauces, which we often don't use. (Ketchup, we're looking at you.)
Anything that has beyond its expiration date may not be safe or wholesome to eat, so get rid of it before you move. Go through your pantry, refrigerator, and cabinets to see what you can find. Anything that has passed its expiration date should be discarded.
Packets Of Sauce
Is it just us, or does it seem like sauce packets materialise out of nowhere? They're almost certainly out of date! Gather all of the old packets and dispose of them.
Appliances For The Home
Older appliances that are still functional should be appropriately cleaned and given. But anything that no longer functions or has corroded or exposed wires should be tossed out for safety.
And when we say chucked out, we mean adequately disposed off. Microwaves, blenders, and toasters are examples of obsolete kitchen appliances that can be recycled.
Family Room & Living Room
Living rooms and family rooms are communal places that collect items from all family members. Because these rooms are frequently interchangeable, we've grouped them in this checklist.
Examine these areas for products that are outdated, broken, or that you don't want. Eradicating your living room and family room before a move will make your move smoothly, giving these busy places a sense of peace in the weeks leading up to the big day.
Books

DVDs, CDs, VHS tapes, and cassette tapes are all available (old media)

VHS and DVD players

Consoles, accessories, and extra controllers

Magazines for children's toys

Toys and bedding for pets
We're not advocating that you get free of or donate all of your books. However, now that we have e-reader technology, there are more effective ways to store and access books.
Books are bulky and require numerous smaller boxes to transport, resulting in more incredible waste. Think about looking for electronic versions of books you read frequently and donating the hard copies instead of shifting your entire home library.
Donate to a library or a local school everything you don't read or won't read. (Let's face it: we all have books on our shelves that are more inspirational than helpful!) Put unique books in the "keep" pile if they have sentimental value.
Bedrooms 
Bedrooms are among the best locations to declutter before moving. Because the large volume of stuff stored in closets and dressers often becomes inaccessible storage locations. At least once a year, we should look through our clothes, shoes, and accessories to get rid of everything we don't want or need.
Clothes and shoes are hung on hangers.
Accessories and jewellery

Hangers
Who doesn't have a surplus of hangers they're not sure what to do with? Extra hangers can be given to friends, relatives, or resale stores as gifts.
Bathrooms 
Expired Asprin, ointments, and prescription drugs are likely found in your medicine cabinet, vanity drawers, and under-sink storage. You don't want to keep these things in your house, let alone relocate them to your new place.
Ensure to dispose of expired medicine properly—don't flush it down the toilet or throw it away in the garbage. The Drug Enforcement Administration advises on how to dispose of medications responsibly.
Toiletries
Although toiletries do not have an expiration date, there are some items that you do not want to pack and move. Lotion, liquid soap, and almost empty toothpaste containers can be discarded.
Extra (unused) toothbrushes and floss, on the other hand, should be saved for later use.
Garage 
The garage, also known as the storage room, has a reputation for being overflowing with items you should probably get free of but are holding on to for some reason.
When clearing your garage before relocating, use additional caution, considering how much space you'll have at your new house.
Hardware and tools

Construction materials (plywood, insulation, etc.)

Gardening supplies

Camping equipment, as well as parts for appliances that are no longer in use

Yard decoration

Items that have been broken

Supplies for a party

Toys for children

Car spare parts

Miscellaneous
Conclusion
So these are some tips for getting rid of your stuff before the move. But still, if you have any query or doubt in your mind related to moving or anything, then you can freely contact us anytime.
Our expert moving team of Moving Champs Canada will always be available to help you with your queries.
To know more contact us now, you can
Call us at: +1-6479322202

Or Can also mail us on: info@movingchamps.ca
Are you looking for short-term storage services in Canada?  Short-term storage means a place where for a temporarily short period, you can store your items safely and can access them whenever you need them. Storage can consist of things that might not be currently...
Summary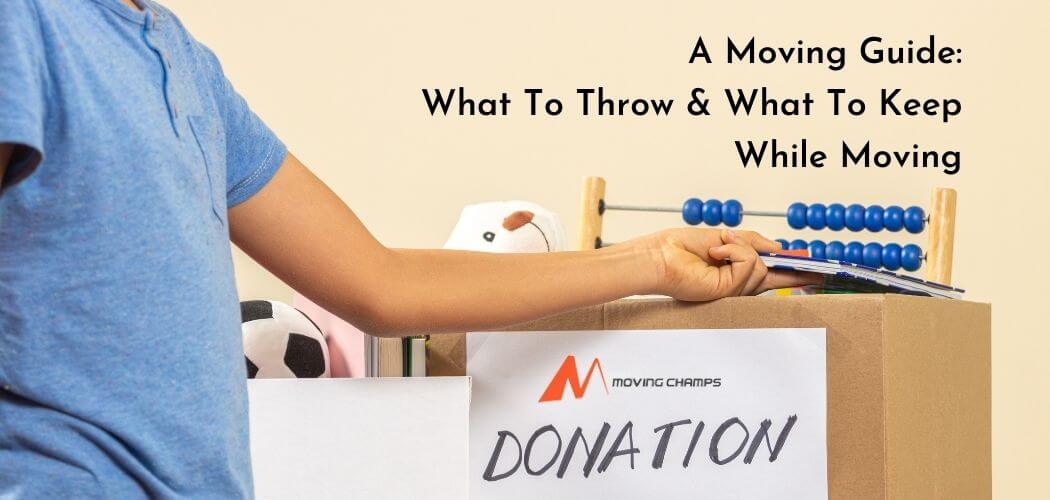 Article Name
Get Rid Of Unnecessary Stuff Before The Move
Description
Getting rid of unnecessary stuff before the move will be beneficial as it may directly affects your moving cost, weight and time. Read to know.
Author
Publisher Name
Publisher Logo