While moving during the summer is handy for families, students, and busy professionals, it may also be excruciatingly uncomfortable due to the terrible heat of the season.
Fortunately, there are certain things you can do (and not do!) to avoid a sweltering and tiring summer move. To begin, we recommend hiring specialists to assist with the heavy lifting so that you can focus on the other things on your moving checklist.
Check out our dos and don'ts for moving or relocating in the summer heat for more information.
Expect To Pay A Higher Price
It's impossible to avoid the truth that summer is the most expensive period to relocate. Everything from moving containers to moving firms is highly demanded during the summer months (also called "peak moving season").
What is the explanation for this? With school out for the summer season, families with school-aged children are more eager to relocate. During the summer season, college students also move into and out of their dorms at the start and end of the summer season.
Many people believe that the weather in the summer season is excellent for relocating and that there are more minor holidays to worry about. Because summer is the busiest moving season of all, you'll almost certainly have to pay more to relocate during these months.
Remember To Bring Water Bottles For Both Yourself And The Movers
Moving in the summer heat nearly guarantees that you will be thirsty most of the time. Ensure to provide water to the movers and anyone else assisting with the relocation.
Bring lots of water bottles with you on the road to avoid overheating. Even if you hire professional movers, it's good to have water bottles at your old and new residences. Trust us when we tell you that they will appreciate it.
Begin The Process Early In The Day
Start your workout for the move early in the morning to beat the heat. During the summer, temperatures and humidity levels are at their lowest. We recommend getting started your work as soon as possible.
You'll hit the heat, but you'll also beat the traffic if you get started early n the morning. Begin the work as early as 8 a.m., or even earlier if possible.
If you can't relocate in the mornings (and you're planning a DIY move), we recommend moving in the late afternoon or nighttime hours when temperatures are more relaxed.
Wearing Hefty Fabrics And Improper Attire Is Not A Good Idea
It's not the day to be fashionable or dress like one on moving day. It's also not the time to be squeamish. Wear light, breathable clothing (think cotton) and comfortable, closed-toe shoes with socks if you're moving in the summer heat.
Forget about the hefty textiles and stilettos. Lifting heavy boxes, walking back and forth between rooms, driving considerable distances, and packing boxes are all common aspects of moving.
None of these moving activities can be adequately accomplished if you're dressed in inappropriate and improper attire.
In Your New Home, Turn On The Air Conditioning
On moving day, the last thing you require is to arrive at a too hothouse to handle. To avoid this, we recommend turning on your utilities before moving.
If you live nearby and can turn on the air conditioning the day before the relocation, do so soon. If you're going a long distance, turn on the air conditioning when you get there.
Cooling down your new home ahead of time will make the adjustment much more straightforward and relaxable.
Don't Move During A Holiday Weekend
Not only will there be a less number of movers and truck rentals available to assist you with the relocation, but moving during a summer vacation weekend will also be significantly more expensive.
Memorial Day, Labor Day, and Fourth of July are those three summer holiday weekends to avoid moving. Not to mention that traffic will be at a stop on the roads. You could even have to take many diversions to get to the new house (due to those Christmas parades).
Do Keep Electronics Cool While Moving
When packing and transporting electronics during the summer, use additional caution. On a hot summer day in Canada, though, it's all too easy for these moving objects to become overheated and damaged.
From smartphones and laptops to TVs and appliances, Electrical products often do not perform well in hot weather. Pack your belongings separately and keep them in air-conditioned environments during the transfer to tip-top form.
Electronics items should be the last things loaded onto the vehicle and the first things unloaded when you arrive. Pack them in a waterproof bin and baggies to avoid water damage from a summer rainfall.
Don't Underestimate The Time Required For Preparation
To be effective, moving during the summer requires significant consideration, preparation, and planning. Don't just toss everything into the back of a vehicle and drive away.
Prepare your boxes and bags at least a month in advance. Several months in advance, interview and employ your movers. Use our move planner tool to help you create and stick to a moving timeline.
It includes a customizable moving checklist, personal tasks list, email reminders, and coupons to help you stay organized during a move.
Bring A Portable Fan With You
One of the essential things you can do during a summer house relocation is to have a portable fan to help you stay cool – especially if the air conditioning in your new apartment hasn't been turned on.
A fan should be placed near the house's front door and where the movers will load and unload the truck. On the other hand, portable fans are pretty inexpensive and can be obtained at various neighboring stores such as Target, Walmart, and Home Depot.
Use High-Quality Sunscreen
Are you planning or thinking to spend part or all of your moving day outside? If that's the case, using sunscreen is a requirement. According to the American Academy of Dermatology, choose a water-resistant sunscreen with broad-spectrum coverage and an SPF of 30 or higher. Apply sunscreen on your face and body for at least 30 minutes before going outside.
Conclusion
So these are the things that you are required to do or keep in mind when moving in summer. But still, if you have any queries or doubts about moving in summer or anything.
You can contact us anytime, and Moving Champs Canada is here to solve your issues. You can contact us through mail or call us, whatever suits you.
To know more contact us now, you can
Call us at: +1-6479322202

Or Can also mail us on: info@movingchamps.ca
Are you looking for short-term storage services in Canada?  Short-term storage means a place where for a temporarily short period, you can store your items safely and can access them whenever you need them. Storage can consist of things that might not be currently...
Summary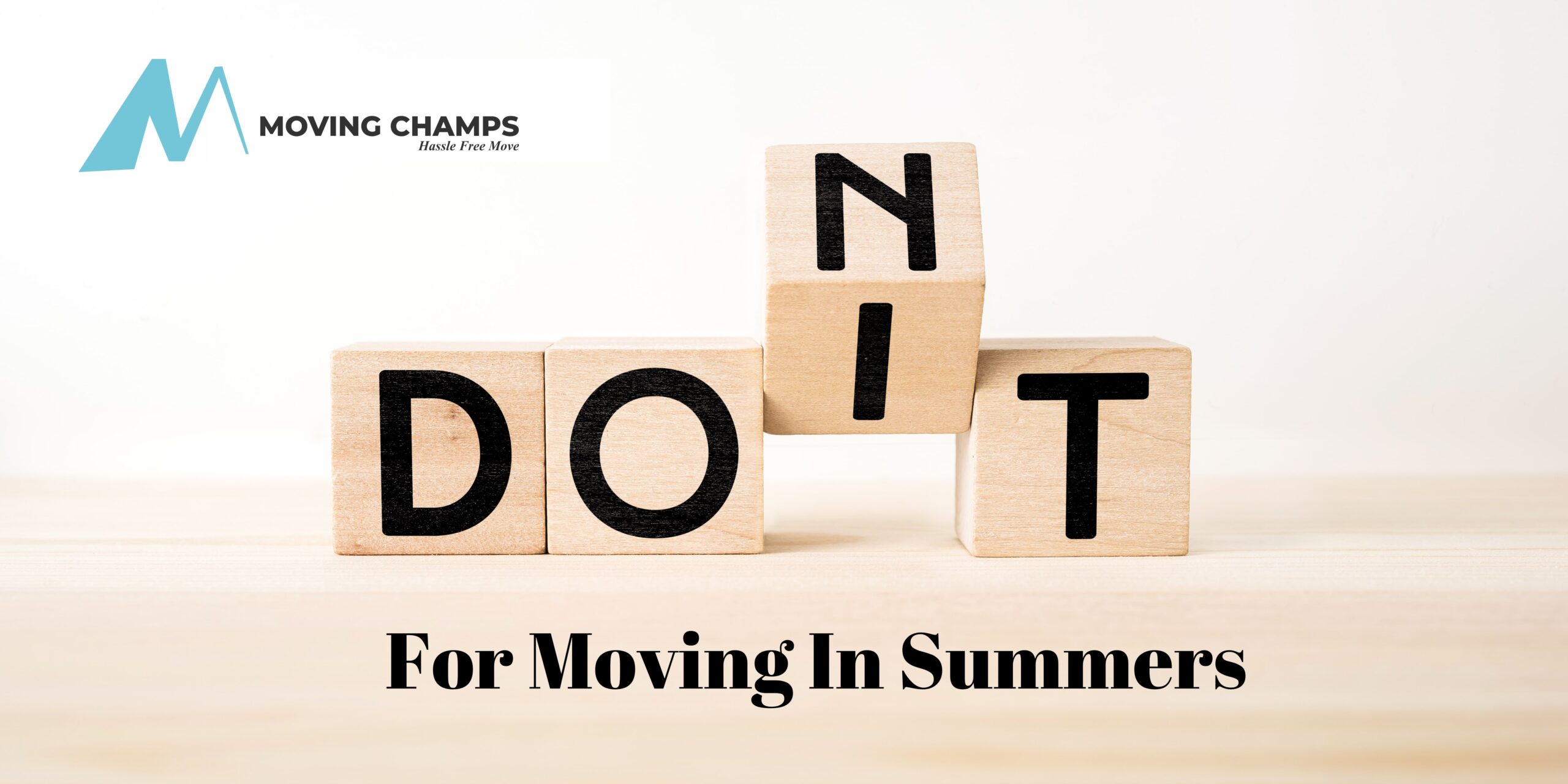 Article Name
Do's and Don'ts for Moving In Summers | Moving Champs
Description
There are a lot of things that you must do and don't while moving in summer. So do read this blog to know about those things.
Author
Publisher Name
Publisher Logo