Moving can be stressful for people, so imagine how anxious your pets will be. When a spontaneous activity in their home or introduced to a new environment, they can quickly become stressed.
It's not easy to relocate with four cats and a fish. These difficulties do not have a one-size-fits-all solution, but here are some suggestions to make the experience less stressful for your beloved companion (s).
Prepare An Overnight Kit
The last thing you want to do is rummage through your belongings to find the items your pet requires while traveling. You'll need a basic first-aid kit, veterinary records, plenty of your pet's regular food, water from home, travel bowls, a favorite toy or two, treats, and a blanket — don't go overboard if your car is already crowded!
It's a good idea to pack and store extra food in addition to your travel kit, just in case you can't find your favorite brand at your destination. This allows pets to adjust gradually and avoids stomach issues.
Contact, The Veterinarian
Before embarking on the journey, make sure your pet is in good health. Explain the situation to your veterinarian and seek advice on keeping your pet happy. De-worming pets before you leave may be a good idea, as parasites weaken the immune system, which may already come to terms with due to the tension and stress of the move.
Take Your Pet In Your Vehicle
Take the pet in your vehicle to the new home. Cats and small dogs can be placed in a carrier in the back seat and secured with a seatbelt. A giant dog can be transported in the back of the car in a kennel; if possible, put the seats down. Some animals will feel more at ease if you cover their carrier with a blanket during the car ride so they can't be able to see the environment changing outside.
Prepare Your Vehicle
Are you going to be driving? Take your car to a trained mechanic to avoid a Puncture or breakdown in the middle of nowhere. Inform your mechanic that you will be traveling across the country, as this will most likely necessitate different tests than a regular check-up. This is a great idea even if you're only traveling with humans, but it's imperative when you're traveling with pets.
Next, decide how you'll transport your pets in the car. The best location is usually in the backseat, away from the airbags. If your pets are unruly or are unfamiliar with car travel, you'll need a method to ensure they stay put (and safe) on the road.
Backseat barriers travel trapping, and pet carriers that attach to a seat belt to prevent movement in a sudden stop are all options. Pets should be able to move around and sleep comfortably.
Select the best option based on the type and number of pets you own. Whatever you choose, ensure you test it before the big drive to ensure you won't have any issues. For example, if you have two or more dogs, their harnesses may become tangled; however, pets unfamiliar with pet carriers may complain. Keep in mind that large, persistent dogs can easily breach a backseat barrier.
Keep Your Pets Away from The Action
Keeping an animal in the quietest area possible during the move is the best way to reduce stress on them. If you don't want to leave them with a friend or neighbor or a kennel for the day (which is recommended), at the very least, take them out of the action.
This could mean extracting a bedroom on another floor and closing the door or placing them in their carrier or kennel in the garage or moving truck (take precautions to ensure they'll be at a safe temperature and have water and food if they'll be there for an extended period of time).
Check in on them on a regular basis, and try to feed or walk them at the usual times; maintaining some sense of routine in the midst of all the changes will be highly beneficial.
Do Not Let Your Pet Out OF Truck Until You Arrive
When transporting or moving the animal to your new neighborhood, be cautious because they can quickly become lost if they escape. Even if the pet is usually well-behaved or docile, it's important not to open the kennel until the pet is in the new home once they're in the car. Allow them a few days to adjust to their new surroundings. 
Tip for cat owners: For safety reasons, more and more people are keeping their cats indoors, and a move is an excellent opportunity to get them used to being inside because they will not be allowed out in the new home. Make the most of this transition.
Keep Your Pet Away from Others
Move house first, then the pet. Set up as much as you can, even if it's just in one room, before introducing the animal to its new home. Give your pet plenty of attention and begin introducing familiar objects, such as toys or blankets, as soon as possible. Make them feel as comfortable as you do! Confine them to a specific house area while adjusting to their new surroundings.
Update Their Information
If the worst happens and your lovely pet is lost or stolen, you want to increase your pet's likelihood to be returned to you.
Keep collars (and leashes for dogs) on pets and update pet tags with your cell phone number and new address. (Rabies tags should also be attached to collars.) Even better, microchip your pets. If they become separated from their collars, they will still be able to be identified. Finally, make sure you have recent photos of all of your pets.
Using a ground transportation service instead of driving with your pets or flying with them is an option. A ground transportation service is typically more expensive than the other options, ranging from $500 to $2,000 per pet, solely depending on the distance traveled and the type of pet.
On the bright side, pet shipping ensures that your animal family member receives the best possible care and attention. Your pet may travel alone or with other animals depending on your service. You may be able to personalize the moving service, and you may even receive real-time updates, such as photos and location details.
All ground transportation services provide a quick and safe ride, allowing you to get back to your pet as soon as possible. Pets are usually transported in minivans or SUVs, which have plenty of space and are climate-controlled for comfort. Dogs are walked every few hours, and cats' litter boxes are cleaned regularly.
Conclusion
To conclude, it is up to you to take your pet along with you or if you want them to travel separately. But a pet is usually more comfortable in the presence of its master, so in my opinion, it is best to keep the pet with you when you are moving. It will be comforting to the pet, and having the pet with you will also help you lower your stress level during the move.
To get free moving quotes contact us now, you can
Call us at: +1-6479322202

Or Can also mail us on: info@movingchamps.ca
Are you looking for short-term storage services in Canada?  Short-term storage means a place where for a temporarily short period, you can store your items safely and can access them whenever you need them. Storage can consist of things that might not be currently...
Summary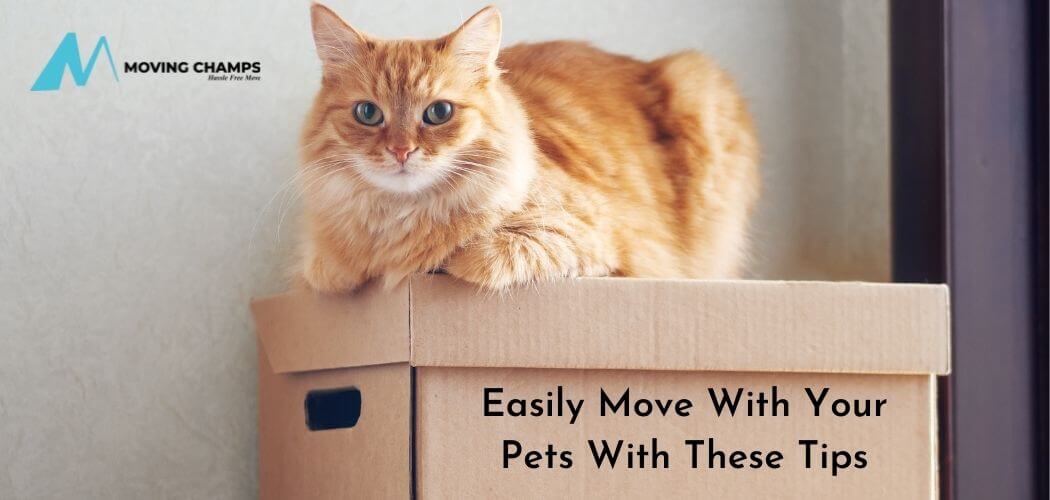 Article Name
Make moving less Stressful for Your Beloved Pet
Description
Moving can be stressful for people, so imagine how anxious your pets will be. check tips about how to moving with pets make less stressful.
Author
Publisher Name
Publisher Logo