Moving is a logistical nightmare.
Moving is such a hassle, and few people like this experience.
Some people endure it, but most people despise the entire moving process and all it entails, and with good cause.
Even a simple relocation across town might feel like the universe is moving in place since there are so many things to attend to and so much preparing to accomplish.
What if we told you you could have a nearly hands-off relocation from beginning to end if you're ready to put in the money?
It may seem unattainable, but professional moving services are available for almost everyone. Moving across the country is far more complicated than moving locally, so be prepared.
Use Moving Tips That Are Practically Hands-Free
Moving will never be an entirely hands-off operation unless you can afford to employ a personal assistant or convince one of your friends or family members to help you with the practicalities.
You'll need to conduct some research and make a few phone calls, but you can be able to do it from the consolation of your own house.
Packing?
You can pay individuals to help you with it.
Cleaning?
Invest in a maid service.
You don't have to be involved in any more of the moving process than you wish to be from start to finish.
Hire Moving Services For Packing And Organizing
Packing is arguably one of the most aggravating aspects of the relocation process. Fortunately, you can skip the bother by hiring full-service movers or hiring labor helpers on a contract basis.
You're already packing everything up, so pay someone to assist you in sorting through your belongings and organizing them, so you don't bring any garbage to your new house. You can have packing services included in your full-service relocation for an extra cost. You will be informed of the company's charges.
Hire Moving Services For Relocation
Moving firms come in a variety of sizes and shapes. Some merely provide physical labor and a moving truck as moving services. Others provide full-service relocations that involve everything from packing to loading and unloading. You will save much money in the long run if you bundle services.
Before you start employing other people to take care of the things you need to be done, try to get as much out of your movers as possible. Just make sure to hire a reliable and well-reviewed cross-country moving company. There are thousands of businesses in Canada, but not all of them will provide you with the kind of service you need.
Opt Services For Junk Removal
There are two sorts of services available at this location. You can employ a full-service rubbish removal firm that will also do the labor work, or you can discover organizations that will merely truck away from your junk or let you rent a container to fill.
You can also employ a junk hauling service to eliminate any garbage or junk that you have hanging around while you're arranging and packing. If you don't have enough to justify employing a removal service like this, you may probably donate most of your unwanted items or put them out with your regular trash.
Look For Other Options For Reducing Work Involvement
Moving is a significant undertaking. Regardless of how much you despise the concept of packing and cleaning, you may have to prioritize which services are most important to you.
After all, paying for every single component of your move would be pretty costly, and most people do not have that type of extra cash.
If you can't afford to hire everyone to do the task for you, there are a variety of alternatives to save money or get things done creatively. Here are some pointers:
As many friends and family members as feasible should be involved. This moving assistance is affordable, but it also allows you to focus your attention where it is most needed and solicit the help of others for various chores that must be completed during the moving process.

Compare the cost of the transfer to the services available. Begin by hiring the most crucial individuals. You can hire the balance of the services you desire if money is left. When it comes to moving, it's always a good idea to plan.

Moving and packing services are the two most valuable services. After all, this is the essential part of the transition.

Consider how inconvenient it will be to clean and dispose of rubbish yourself. It usually does not turn out to be a significant issue. After all, these are the most time-consuming aspects of the move, and having someone else do them can free you up to accomplish other things or take the burden off your shoulders.
Conclusion
You won't have to lift a finger for most of your relocation if you have enough money to hire helpers. However, it would be best if you kept in mind that this will be more expensive than other moving solutions. It shouldn't be challenging to develop a plan for your move if you devote a few more minutes to your study.
If you genuinely despise the labor, you can always pay somebody to do this tiring work. You can also hire Moving Champs, one of the leading moving companies in Canada, to move your possessions safely to the other place.
To know more contact us now, you can
Call us at: +1-6479322202

Or Can also mail us on: info@movingchamps.ca
Are you looking for short-term storage services in Canada?  Short-term storage means a place where for a temporarily short period, you can store your items safely and can access them whenever you need them. Storage can consist of things that might not be currently...
Summary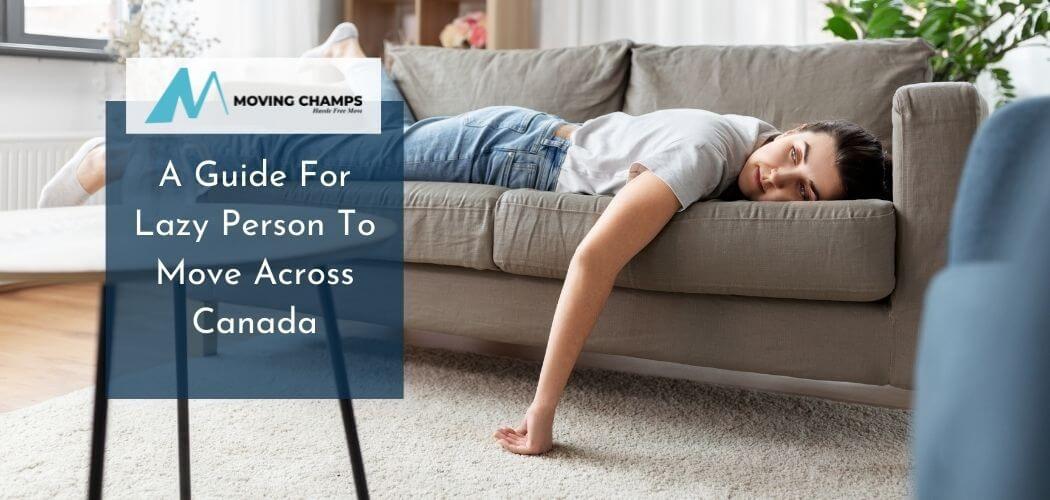 Article Name
A Guide For A Lazy Person To Move Across Canada
Description
What if we told you you could have a nearly hands-off relocation from beginning to end if you're ready to put in the money?
Author
Publisher Name
Publisher Logo