Late spring is the official season of two things: it's the time of year when plant life thrives the most, and it's also the time of year when household relocations across the country skyrocket. For example, consider the most recent Vancouver mover's blog.
What do the two have in common, you can ask?
Many of the households we are preparing to relocate this season have asked for advice on how to move their plants from the house and garden (to their new home) without harming the health of their green "companions."
Moving Champs Canada is the house removals companies canada. which has experience moving houseplants, antiques, and valuables. If you're planning a cross-country move with houseplants, then keep these tips to move your plants safely from one location to another.
1. Understand The Law Regarding Invasive Species For Long-Distance Moves
As long-distance movers, we understand how critical it is to understand the laws and regulations governing the transport of plant life to different provinces, states, and countries. These regulations exist to prevent the introduction of invasive plant species that could harm the region's ecology.
In Canada, almost every province has a prohibited invasive species list, such as this one for British Columbia. We recommend researching before your next long-distance move to determine where your plants fall within that spectrum.
2. Prepare Your Plants For Moving
When relocating households/offices, it can be challenging to decide what plants to bring and how to transfer the plants sensitively. The most common issues that arise when transporting plants over long distances revolve around temperature, light, space, and a lack of water. Preparing correctly for moving with plants should begin weeks in advance, and it is your responsibility to pack and label each plant correctly.
2/3 Weeks Before Moving
Conduct research on properly trimming your plants, which you can do by consulting a local florist or reading relevant plant books/articles. It is a good idea to begin the repotting process as soon as possible after the move to help overcome the shock phase.
It is best to transplant into rigid plastic containers to reduce the risk of breaking if the pots are made of clay, glass, or a ceramic layer. Trimming plants weeks ahead of time has many advantages, including making them easier to move, allocating more space, and improving the plant's health, which is especially important if the move is a long-distance commute.
However, not all plants should be trimmed; for example, a cactus should be left alone because it does not respond well to pruning; this highlights the importance of conducting research weeks in advance to avoid future problems after the move is complete.
One Week Before The Move
It is critical to inspect the plants you have decided to bring with you on your move, which should be done a week before departure. The inspection should look for pests and diseases, and if any plants fail, they should be removed. It is critical to remember to avoid chemicals, especially when the move is about to begin.
Last 48 Hours Before The Move
The last 48 hours are your last chance to water your plants before moving. It is critical to ensure that the water has been thoroughly absorbed before the move, as this may result in water loss due to the plant being tossed around. When packing the plants, line the boxes with plastic bags to prevent moisture from breaking through and damaging the cartons. Make sure to label the sides of the boxes as "Fragile Plants" so that the delivery workers know what's inside.
Remember only to wrap plastic pots in dry paper and to cut holes in the sides and lids of the containers to allow for proper ventilation and to prevent excessive moisture levels. Plants of similar size should be placed in the same box, with plenty of space between the lid and the top of the plants, to reduce the risk of jarring. It is critical to thoroughly water plants in the morning before leaving, especially in the summer.
3. Watering Your Plants
When relocating your plants, it is critical to consider the climate and the impact on the soil. In the volatile environments of Calgary and Edmonton, it is crucial to update your plans based on the current weather. The two worst conditions for plants are hot and dry and cold and wet.
If you're moving during the winter, water your plants for two or three days to ensure they're dry on moving day. If you're moving or relocating your home during the hot summer months, water the plants thoroughly the morning of the move and let any excess water drain away.
4. Pack Them
Pack your plants on the morning of moving day or the night before. Insert the plant into a cardboard box. To keep the plants in place, wrap them in the dampened newspaper or packing paper. Close the lid and poke air holes in the sides of the box. Mark the boxes PLANTS so that the movers know not to load them.
5. Last Thing Out, First Thing In
Your plants and kitchen perishables should be the last possessions to leave the old house and the first to enter the new one. If you're planning your long-distance move, stop, water, and let the plants breathe while you stretch your legs.
6. Climate Control
Climate control is a significant concern when it comes to the survival of your plant life during a move. If you are moving during extreme weather (hot summer/freezing winter), make sure that your moving vehicle (or professional moving truck) can match the safe inner temperature range that your plants are accustomed to.
You may also consider climate-controlled storage (overnight shipping the plants to the storage facility for long distance moves) for your plants until the move is complete to reduce the "trauma" caused by relatively extreme climate changes.
7. Seek Additional Plant-Related Education
Refer to an online plant care resource town months before your move to soak up more knowledge and understand the optimum care scenarios for your beloved plants so that you can prepare, transport, and nurture them throughout the entire moving process.
Many movers, including Moving Champs Canada, sell boxes and packing materials ideal for transporting plants across the country. If you have any further questions about properly packing plants for moving, contact your Moving Consultant. They can recommend the appropriate size of moving box based on the size of your house plant.
Conclusion
Those who do not have the time or confidence to protect their plants during a household relocation adequately should contact our movers. We understand that plants are a part of your family for some of you, and Moving Champs Canada will treat them as such.
To know free moving quotes contact us now, you can
Call us at: +1-6479322202

Or Can also mail us on: info@movingchamps.ca
Moving to a new home can be hard on clothes. Constant temperature changes, dehumidifier levels, and different flooring can leave your clothing with permanent wrinkles and creases. One way to protect your clothes is by following these moving tips and hacks. We've...
Summary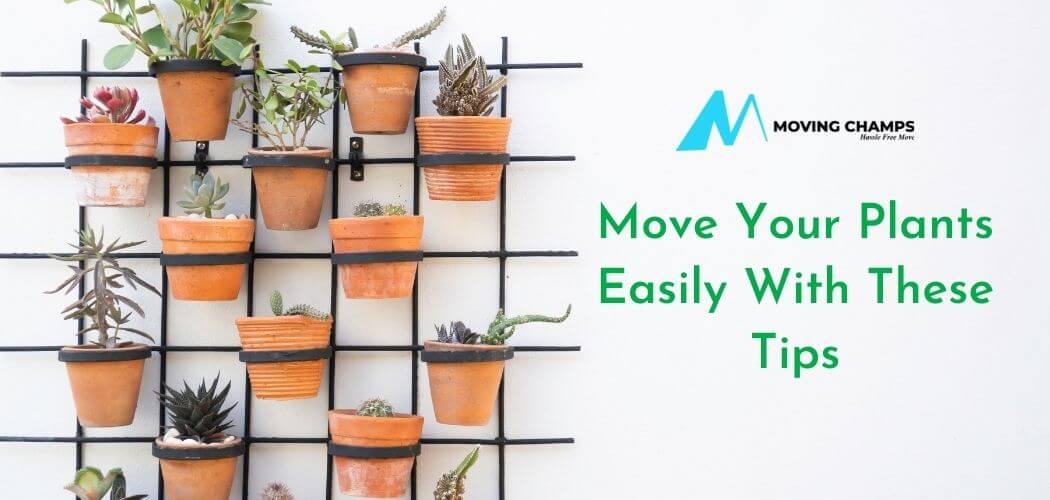 Article Name
7 easy tips to move your plants | Moving Champs Canada
Description
If you're planning a cross-country move with houseplants, then keep these tips to move your plants safely from one location to another.
Author
Publisher Name
Publisher Logo